April 2014 Newsletter
April Newsletter
Lighter evenings, extra sunshine, Easter holidays and chocolate eggs ... What's not to like about April!
Whether we get wall to wall warmth, a few flurries of unseasonal cold or traditional April showers, the weather can't dampen our spirits because Spring is well and truly here!
April air holds that unmistakeable tang of spring, enticing us outside and inspired to get some serious gardening done. A fantastic summer display needs acting on NOW so If you've been waiting for spring to get started don't get left behind; our bedding and basket plants go fast so order NOW to be sure of your favourites.
The weeks will fly past from now until summer and it's a busy time for gardeners. The lawn will need regular cutting and seeds and plants come on in leaps and bounds encouraged by April showers and lengthening days.
It's certainly a busy month, but take time out to enjoy every moment; this is a magical time of year!
Pam Richardson
April in the Garden
Plant up hanging baskets
It's been a warm but soggy winter in many parts of the country but the great thing about planting in hanging baskets and containers is you can plant them even when it's still wet underfoot! Plant up your hanging baskets and containers in the greenhouse or shed and keep them somewhere light and frost free until it's safe to put them outside, once the risk of frost is over. Of course predicting your last frost depends on where you garden and exact timings will vary from north to south; judge from experience of weather conditions in your particular region.
We're always saying what brilliant weatherproof plants begonias are, so no apologies for repeating it! The Illumination series are always best sellers with two wonderful colour mixes Tropical shades and Apricot shades. Their truly spectacular weatherproof blooms stay looking good whatever summer brings!
It's hard to choose favourite bedding plants with so many to choose from but geraniums (pelargoniums), petunias, fuchsias and lobelia must be high on the 'must have' plants list!
Get Planting!
It's great to get out in the garden at last! With some dry days and good weather there's the chance to do some weeding and tidying up and see what areas are doing well and what bits need some tweaking. It's the perfect time to do a bit of redesigning with new plants.
Shrubs and perennials will get off to the best start planted now. We have a fabulous range of shrubs from great value starter shrubs and young shrubs that establish fast and will get bigger and better every year, to impressive mature shrubs that create instant impact in beds borders and containers.
If you've been wowed by this spring's flowering plants there's still time to plant three classic spring and early summer plants; hellebores, lily of the valley and sweet violets. All these lovely perennials will come back every year giving bees some early nectar and delighting us with their flowers. The scent of sweet violets and lily of the valley is one of the joys of spring! These plants do really well in shade making them ideal for brightening up difficult areas of the garden and they'll spread where they're happy, getting better every year.
The weather has been so mild that we've seen some unusual plant combinations this spring. The early flowers have lasted longer and spring bulbs are making a brilliant display. Over wintering hardy annuals such as marigolds have simply refused to stop flowering and they've joined the daffodils for a very unusual effect!
Last chance to buy Seed Potatoes
If you're an experienced vegetable gardener you'll know all about Earlies, First Earlies, Second Earlies, Salad, and Maincrop potatoes; these are grouped and named according to type, how long the potatoes take to grow and harvest times.
But if these names confuse you don't let that put you off growing them! The simple fact is if you plant potatoes NOW they'll grow! When you're new to potato growing this gives plenty of scope to experiment with planting different varieties and deciding which you like best.
Like all vegetables, potatoes need regular watering and you'll give them the best start by mixing in a slow release fertiliser with the soil before you plant the tubers, continue to feed and water throughout the season it's as easy as that!.
Planting potatoes into growing bags or large containers is an easy way to get a worthwhile crop. You can harvest your potatoes at a time that suits you and by gently rooting around in the soil you can easily see what size your potatoes are. OK your salad potatoes may eventually turn into whoppers rather than dainty little egg-shaped delights, but they'll taste just as wonderful!
Create a sparkling pond
Relaxing by the pond on a warm evening with fish feeding and dragonflies darting over clear water, what could be better? It's a potent image but if your pond doesn't quite live up to the dream this is the month to tackle overgrown pond plants and algae-covered water and turn murky ponds into crystal clear pools. You can clear blanket weed and algae from the pond in a matter of weeks following application with EcoSure Pond Clear and an EcoSure programme specially tailored to the size of your pond will keep ponds clear throughout the season.
To keep ponds clean and healthy, NOW is the time to give your pond a spring clean.
Clear debris such as branches, twigs and fallen leaves from the surface of the pond.Cut back and pull out any overgrown pond plants that have spread out of control. Always do this carefully to avoid damaging the liner.
Check for leaks and make sure that pond liners are still intact.
Refresh your pond with a new planting scheme; choose pond side and marginal plants for the moist soil at the pond edges and larger plants such as irises and water lilies for deeper water, they are the ultimate in romantic planting! We've chosen our range of aquatic plants carefully and included something suitable for every size of pond from a Monet-style expanse to a tiny barrel pond! Everything you need to keep a pond healthy including freshwater molluscs and water snails.
If you're thinking of planting up a naturally boggy area or creating a totally new pond this is also the best month to do it. Plants such as candelabra primulas and moisture loving ferns can colonise a moist shaded site for a natural streamside feel.
Moisture-loving perennials don't have to be confined to water features; some such as showy Lobelia cardinalis and Iris sibirica look just as spectacular planted in a reliably moist border.
Gardening tips for April
Revive your lawn
April is the start of the mowing season, and the best time to start your lawn care regime. With hardly a frost in some areas weeds have had all winter to establish and all the wet weather has also encouraged them to thrive. If your lawn is more weak and weedy than green and wonderful it's time to revive it.
Make the first cut of the season when soil is reasonably dry and don't lower the mower blades too much. Slippery soil and a low cut will 'scalp' the grass leaving it scarred from the start. You can leave the clippings on the grass to add some nitrogen back to the soil or collect them up to add to the compost heap.
Make a note of weedy patches and deal with them, if that vibrant green is more clover than grass use a lawn feed and weed & moss remover to encourage the grass and get rid of weeds that compete for food and nutrients.
If you have a lot of moss in the lawn this is usually a sign of compaction and bad drainage. Aerate the lawn to allow air to the grass roots and to help drainage. You can do this with a garden fork or use a hollow tine aerator specially designed for the job; either works well to ease compaction.
Moss is a real problem on shady lawns, especially if the shade is caused by overhanging trees. Rather than fighting a losing battle with grass that constantly struggles in shade consider replacing it with an area of paving or gravel. Save your lawn (and efforts) for the sunnier parts of the garden; grass does so much better in sunshine!
Once you've dealt with the weeds, patch or reseed any bare patches Ecosure lush lawn is great value at the moment with a buy 1 get 1 free offer. April showers will get grass seed germinating quickly; net the reseeded areas to prevent birds from eating the seed. If you're patching areas of bare lawn with pieces of replacement turf or returfing an area completely the turves will knit together much faster when weather is showery.
If you would like to know more about keeping your lawn lush and healthy read Living Lawns, it's a great value book that contains lots of helpful advice.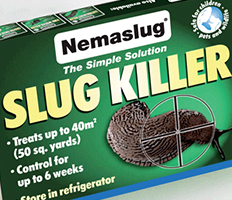 Wage war on pests
Warm, showery spring weather gets plants off to a flying start but as the soil warms up pests that live in the soil become more active too. These include cutworms the fat greyish grubs that nip seedlings off at the roots, vine weevil adults and their distinctive creamy, c-shaped grubs. Nemasys organic controls get rid of a number of garden pests including an influx of slugs and snails; probably the gardeners' No.1 enemy!
Slug pellets scattered very thinly and reapplied after rain will deal with slugs and snails on the surface of the soil but if you prefer not to use slug pellets these organic controls are among the most effective remedies. Water in Nemaslug; it contains millions of microscopic nematodes that rid the garden of slugs that live below the soil in addition to the ones we see above ground. Easy and effective the results are impressive, use it when the soil warms up and reapply to get protection all season. These nematodes are living micro-organisms so use and store them as instructed on the packet.
Grazers slug and snail spray is a relatively new product that is sprayed on foliage and absorbed by the plants to deter slugs and snails.
Some gardeners go out by torchlight and pick snails off the plants by hand and there are other traditional ways to deter these unwanted pests. Use copper rings or eggshells scattered around vulnerable plants or entice slugs and snails into beer traps.
Prepare your beds and borders
Whatever you are growing in your garden it pays to prepare the soil well before you plant or sow. In a new border or vegetable plot fork soil over and weed it well.
Clear pernicious weeds such as bindweed, mare's tail and ground elder before you plant. Use weed killer on a dry still day to avoid the spray drifting onto plants you want to keep and always make sure to follow the instructions.
Prise out deep rooted perennial weeds such as dandelions and docks with a hand weeder to get rid of as much of the tap root as possible.
Buttercups and nettles have fairly shallow roots but they spread very quickly by runners, take these weeds out with a hand fork as soon as you spot them and clear large infestations with weed killer. Annual weeds such as shepherd's purse and bitter cress can be hoed out quickly and easily.
When weeds have been removed scatter some pre-planting fertiliser and lightly rake in before raking soil level ready for sowing and planting
If you already have some permanent plants in beds and borders rake in some general purpose fertiliser and mulch around permanent plants such as shrubs and roses with homemade compost or well rotted manure.
Always mulch when soil is moist to lock the moisture in. If soil has been waterlogged it can crack as it dries out, (this is a common problem with clay soil) mulching stops the cracks from opening up and helps to improve soil texture as well as increasing fertility.
Plant Sweet Peas
Whether you grow your own Sweet Peas from seed or buy them as young plants sweet pea plants don't need mollycoddling but like most young plants they do need acclimatising to outside temperatures before you plant them into their permanent positions.
Keep them somewhere sheltered but cool, a cold frame is ideal. Expose them to daytime temperatures but bring them back into shelter at night. Closing the cold frame lids will be enough to keep them snug.
Our young Sweet Pea plants are supplied in trays of 9 multi-sown cells with at least 6 plants in each cell; there is no need to separate the individual plants just remove the plants in each cell and plant as a group at the base of the supports into well weeded, humus-rich soil. Sweet peas are hungry plants so add some pre planting sweet pea fertiliser to the soil and never let the soil dry out. Keep the plants well watered and well fed throughout the season.
Sweet peas will scramble up anything such as a wigwam of canes or a row of netting.
They hoist themselves up the canes and supports by twining tendrils but when sweet peas are small they'll need a bit of extra help to get up to the supports; use a few short twiggy branches pushed into the soil to give them a start.
If you grow your own sweet peas from seed don't forget to pinch out the plants' growing tips to encourage them to branch, this will give stronger plants with masses of flowers.
Pick them every week, this will stop them from setting seed and keep your sweet peas blooming well into late summer and beyond.
Prune Roses
It's been so warm this winter that many roses already have lots of fresh growth on them.
It may go against the grain to cut stems that have healthy new leaves emerging but spring pruning is vital to encourage strong new stems and to keep the roses looking good.
Removing crossing and unwanted stems also allows light and air into the plants and helps to prevent disease.
Whatever you're pruning keep secateurs clean and sharp to avoid tearing the wood or spreading disease. Use a gently sloping cut that angles away from the bud, this will allow rain to run off, away from the buds.
Give Floribunda and Bush roses an open, vase shape with well-spaced branches and plenty of outward facing buds.
Start by cutting out any dead, diseased or dying stems. Then remove any weak, spindly stems and any branches that are crossing. You'll be left with between 3 and 5 of the sturdiest stems.
Cut these remaining stems hard back to an outward facing bud, low down on the plant.
Cut climbing roses back to a strong framework of branches and remove any stems that come out from the wall or fence. Gently train the main stems horizontally as you prune to encourage new vertical shoots to emerge.