January 2014 newsletter
January Newsletter
I rarely make New Year resolutions now- mainly because in the past they were always the same.
But I do always get ready for a new gardening year by resolving to try new plants and to grow something new from seed.
Planning and preparing are what this month is all about; true there are a few early seeds to sow such as antirrhinum and begonias but nothing compared to the frenzy of activity in spring.
Whatever you do in January whether it's hunkering down to wait for spring or getting out to admire the snowdrops or to dig over the border; enjoy the relative lull of this quiet gardening month.
Look online or get your hands on our new 2014 catalogue and start planning NOW before the spring rush overtakes us once again.
Most of all have a healthy and happy 2014.
Discover Unwins 2014 range
As always the New Year is an exciting time for us, it has to be said it's also something of a relief after the hectic months of putting together a new catalogue and finalising our online ranges.
Now the hard work of collating the images, deciding on copy and getting everything together has been done. Whether you are looking online, www.unwins.co.uk, or ordering from the catalogue there are plenty of new plants, some brilliant seed collections and great products to choose from. There are new starter shrubs an increased rose range, and some fabulous new climbers.
If you can't wait to get started our brilliant windowsill propagator will be a real boon. It gives just enough warmth to get an early start and helps to grow everything from early vegetables to bedding plants and sweet peas.
Look online to see what's new and exciting, get the catalogue opened and start making plans for your best ever garden in 2014!
Wash pots and sort into sizes
The crisp, cold days at the start of the year have their advantages. There's not much planting to do when the ground is like iron. But if you've got a cosy shed or greenhouse why not take advantage of this lull in the growing year and wash some pots and seed trays. With the radio on and a bucket of hot, soapy water at hand it's an enjoyable way to spend a leisurely hour or so.
If you'd rather start the year with brand new equipment our pots, cell trays and shuttle trays are great value and perfect for seed sowing, repotting and cuttings.
Starting the season with a stack of clean pots, and seed trays makes it easier to get ahead. Washing pots and plant labels also focuses the mind as to what sizes you're short of, and now, while it's relatively quiet, is the ideal time to assess what you'll need for the coming year and to order them.
Once all those new seeds and plants arrive you'll be glad you got so organised!
Tidy Hellebores
It's time to get the garden ready for its late winter, early spring display. That means tidying dead leaves of hellebore hybrids to allow the new flowers to show themselves at their best.
Hellebores can suffer from diseases that are spread through diseased foliage, so removing old leaves acts as an insurance policy against this happening.
A bit of a tidy up also clears the way for snowdrops and early bulbs to push through without their emerging flowers and stems being nibbled by snails.
Only cut tatty leaves of hellebore hybrids now, (Hellebore orientalis as they used to be called). Don't cut the leaves off later shrubby hellebores; these have flower buds forming and if you remove those it will affect your spring display.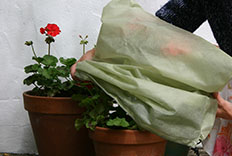 Avoid frost damage
We've been fairly lucky with the cold weather in most parts of the UK despite the awful storms. If you have tender plants now is definitely the time to cover them. Frost protection is a vital part of winter gardening. From fleece to cloches for protecting tender plants and crops we have a great selection to choose from.
It's not just the plants that need protecting; if the lawn is your pride and joy keep it that way by avoiding walking on it when a heavy frost has fallen. Blades of grass are easily crushed when they're frosted and any that are damaged won't recover. You'll see the damage once the frost lifts -leaving your lovely lawn with big brown 'boot marks' where the grass has been trampled and has subsequently died.
Do some winter 'housekeeping'.
If you are lucky enough to have a greenhouse this could be a good time to get the glass sparkling clean. Light levels are already at their lowest in January so dirty glass will make the inside really gloomy.
Clear the greenhouse of any plants if you're planning to clean the glass, it's a wet messy job and plants won't appreciate being soaked. Work from the top to the bottom of the greenhouse, brushing off debris and cleaning the worktops. If they are wooden slats check there's nothing nasty lurking in the crevices.
That goes for pots and trays too. Slugs often curl up at the bottom of plastic pots and if you don't notice them they'll munch their way through emerging seedlings.
To stop slugs and snails from ruining young plants scatter slug pellets in cold frames too.
Green off is a great cleaning product for ingrained dirt and grime throughout the garden. Cleaning up and getting rid of debris greatly reduces the risk of fungal infection.
Tips for the garden...
Care for your house plants
Like many keen gardeners I'm usually given at least one pot plant as a Christmas present.
But to my shame I'm much better at looking after outdoor plants than those that grow indoors.
In order to preserve my reputation as a gardener I have to do a bit of homework on any new houseplant that comes into my care.
If you're the same I've shared my top tips for keeping festive houseplants going for as long as possible.
Some festive houseplants are easy to look after and just keep going, Other Christmas flowering plants take a bit more looking after. Poinsettias are well known to be among the trickiest of plants to keep because they are day length sensitive plants that need darkness and warmth all in strictly controlled amounts – I admit my advice is to simply enjoy them over the holiday and resign yourself to their eventual demise!
But cyclamen, orchids, azaleas and many others will last a lot longer than just a few weeks. Here's how to keep them going well into the New Year.
Cyclamen
The showy cyclamen we get given as house plants are Cyclamen persica hybrids often called Florists' cyclamen. They are related to our little native cyclamen but unlike our hardy native plants they come from warmer climates - Warm rooms and overwatering are the main causes of death for cyclamen persica plants; they need cool rooms, careful watering and good drainage to thrive.
The main cause of death for an indoor cyclamen is botrytis infection – a fuzzy grey mould that causes stems to collapse and kills the plant. To avoid it stand the pots on a saucer of gravel and water the saucer not the pot; that way the crown of the plants stay dry and the risk of mould and disease is reduced.
Moth orchids - phalaenopsis.
Phaleonopsis orchids often seem to thrive on neglect- they will sit happily on a warm and moderately bright windowsill, east or north facing aspects are idea. If the room is draught-free and occasionally steamy so much the better! Water orchids about once every 10 days and let them dry out in between watering. Don't let them sit in water.
These plants grow naturally in warm, humid conditions, in their native habitats they get the moisture they need from sudden downpours followed by periods of drought. Those thick aerial roots are experts at finding moisture from the environment so let them escape from the pot- that's what they're designed to do!
Mushy roots and yellowing, wrinkled leaves are a sure sign of an orchid that's been overwatered-a fortnightly water and occasional feed is perfect.
Cut spent flower stems off, low down on the stem and new ones will eventually form to keep the plants going for a long time.
Hippeastrum (Amaryllis)
These wonderful flowering bulbs really make a statement when grown at Christmas. The gold and silver-painted bulbs need no special care to thrive but if you've got dry, unpainted bulbs they'll need potting up into multi purpose compost with a third of the bulb above the soil.
Give them an initial watering but after that first drenching wait until you see tip of the flower bud appearing before you water them again. Too much water early on can lead to lots of leaves and fewer flowers.
Keep them in a moderately warm, well lit room and turn the bulb regularly to avoid the flower stems leaning into the light. Staking with canes and string will stop the stems from toppling.
Once flowers appear they'll last for weeks just needing to be deadheaded to keep them looking good.
You can discard the bulbs after Christmas but it's fun to try and keep them for next year. If you want to try, keep them growing until September feeding and watering regularly. Stop watering from September and let the foliage die back. Place in a cool frost-free place for 1 or 2 months and then start them back into warmth in a warm, well lit room
In their first year Hippeastrum are reliable Christmas flowers but they'll often flower at a different time in subsequent years- Easter flowering in year two is not unusual!
Azaleas
These frilly colourful flowers are always popular but they will need acidic soil and careful watering if you want to keep them in flower into the New Year. Keep azaleas on a bright windowsill and stand the pots on a saucer of gravel. This helps to keep humidity at the right level. Like many houseplants Azaleas need to be watered carefully, keep the compost moist but not wet to avoid mould and fungal infections. The plants are half hardy so they won't withstand a hard frost but equally they dislike over warm rooms a cool, well lit room is perfect well away from radiators and fires. .
When the plants are in flower feed once a week with a high potassium liquid feed. Tomato food is fine.