July 2015 News
The herbaceous perennial borders have come into their own by now, and you'll be enjoying the blooms of lupins, delphiniums and other cottage garden favourites like hardy geraniums and hollyhocks.
Late-season clematis are just beautiful climbing up walls, or indeed trailing in borders or spilling over hanging baskets. And don't forget roses, the flower which epitomises the RHS Hampton Court Palace Flower Show (30 Jun- 5 July). Keep these hungry plants well-fed through summer with rose fertiliser and a thick mulch around the base of the plant.
The weather is predictably unpredictable, but make sure that your container plants are getting a good watering in the morning or evening despite showers, which often don't get enough water to the roots of your garden plants. Conversely check pots are not waterlogged, if we're having a particularly wet spell. Plants can suffer as easily from over-watering as underwatering – so it's all about getting the right balance.
We'll be at the RHS Hampton Court Palace Flower Show this month, getting the latest gardening news to you. In the meantime, enjoy a season of garden parties and barbacues in your well-tended gardens.
Patrick Wiltshire
Jobs to do in July
Deadhead roses
Want to extend the flowering season for as long as you can. Removing the spent flowers is a good way of letting the plant know it needs to produce more flowers– and not to put its energy into producing rose-hips instead.
With secateurs or snippers, snip of the flower just below the green swelling directly under the petals.
Why not remove some flowering stems as cut flowers to decorate and add scent to your conservatory or living room, and bring a bit of the outdoors in. Roses look great as cut flowers especially when displayed with architectural leaves like artichokes or fatsia. Be inventive!
While dead-heading roses take the opportunity to check stem tips for pests like greenfly or blackfly. You can get on top of the infestation using insectides. If you are an advocate of organic gardening, why not introduce a population of bug-eating ladybirds (link ladybird hive once on website) in your garden. The ladybird adults and larvae have a voracious appetite for greenfly and can keep damaging populations at bay.
Water and feed vegetable crops
Whatever the weather, your vegetable crops are going to need some TLC to get you good harvests. Vegetables that are formed from flowers such as aubergines, tomatoes and cucumbers can always use a helping hand and appreciate a potassium-rich fertiliser to bring on healthy harvests.
Feed according to instructions of the package, but on average just apply a soluble tomato-feed for one in every three waterings.
For vegetables that are harvested for the leaves - like cabbage, lettuce and red salads, you'll do well to feed with a high-nitrogen feed which brings on the vegetative growth.
Again, follow dosage instructions on the package. Nitrogen-rich fertilisers are available in granular form or liquid form. You can also encourage raising the nitrogen levels in the soil by adding bulky compost or growing a green manure like mustard previous to planting.
Water hanging baskets regularly
If you want your hanging baskets to keep flowering and put on a beautiful display all summer long, make sure you water regularly and well and apply a high-potassium feed like tomato food to get an abundance of blooms, and have them looking at their fullest and most decadent.
If you're looking for a basket that makes a statement, get your hands on our pre-planted Sizzle Pink basket. Bright and bringing garden walls to life, there perfect for a sunny patio. And pre-planted with water-retaining gel and enriched with plant food, you can just put up the basket, sit back and relax.
On holiday this month? Take away the dilemma of un-watered baskets and invest in a self-watering spike. Insert this in pots and baskets and the control-release spike, waters the plant automatically as the temperature rises and stops when the ambient temperature cools. You can add soluble plant food to the solution too so the hanging baskets get food as well as water.
Summer-care for your lawn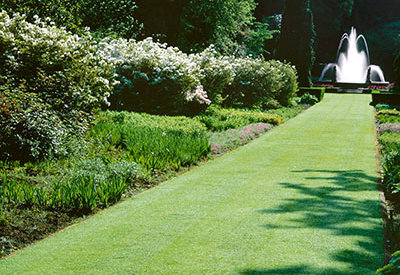 For a lush green lawn that wouldn't look out of place at a croquet tournament, you need to feed it the right nutrients at the right time of year. In autumn you give it a high phosphorous feed to address and the grass roots, for growth and development over winter. In summer, you want to encourage fresh new growth of grass blades. Treat your lawn with a high-nitrogen feed. The nitrogen promotes fresh young growth which creates the attractive lawn you're after.
Keep the lawn mown too, preferably twice a week. Regular cutting encourages the leaf blades of grass to branch, which contributes to a fuller and thicker lawn. Cylinder mowers, and some rotary and hover mowers have adjustable cut heights – check the individual lawn mower manual and change set the blade to give a close cut in high summer. Only in particularly dry weather, will you need to raise the blade to lessen the cut and provide less stress to the grass.
Planning and ordering the spring flowering bulbs
Starting planning now for spring-flowering bulbs next season. Cast your mind back to spring this year and recall which parts of your garden could have been more adorned with daffodils and tulips.
Perhaps you want to try some more unusual spring-flowering bulbs like dog-tooth violets (Erythronium 'Pagoda') shade-tolerant lily-like yellow flowers, gorgeous in dappled shade. Or camassia, tall and proud, with spikes of star-shaped flowers that start the spring/summer perennial flowerbed perfectly.
Spring-flowering bulbs are lovely in containers as well as flowerbeds. Use tulips and tall daffodils as the central focal-points in containers, And for smaller containers, choose bijou bulbs like grape hyacinths Muscari armeniacum, or species tulips like Tulipa tarda.
Problem watch – aphids
Aphids, which are a group of sap-sucking insects that include greenflies and blackflies, are notorious garden pests that are doubly disadvantageous in that they actively take sap out of plants, causing stunted and distorted growth, and also secrete a sticky substance called honeydew on leaves and stems, which attracts sooty mould and in turn reduces then rate of photosynthesis.
Aphids tend to colonise around stem tips, young growth, and flowerbuds. Blackfly are easier to spot with the naked eye while greenfly are more camouflaged against green stems. Luckily, as they tend to colonise they are easier to see.
Aphids have a complicated and involved lifecycle, and young are either live-born or hatched from eggs, dependent on the time of year. In spring many are wingless and egg-born and feed on the fresh young growth of emerging plants.
They tend to be winged in summer once the host plant in the spring has wilted and deteriorated or populations are too high, so they can fly away to another plant. In July, typical summer plants of choice are geraniums and sweet peas.
To control this pest you can take either the organic or chemical route. Introduce ladybirds into the garden with a ladybird house a natural predator of aphids. Adult ladybirds and larvae have a voracious appetite. Alternatively use an insecticide, following the manual or packaging instructions or Bio-gro Plant Health Invigorator – which is all-in-one non-chemical plant food and pest suppressant.
News
The HTA National Plant Show (23 and 24 June) played host to a whole host of exciting exhibits of ornamentals. Best New Plants 'in Category' winners include annual Bidens 'Beedance Painted Red' from Channel Island Plants and perennial Salvia 'Love and Wishes'. And the Best Plant Display goes to Wyevale Nurseries).
Come to the RHS Hampton Court Palace Flower Show, the world's largest flower show, (from 30 Jun- 5 July) and help celebrate the show's silver anniversary. There loads for adults and children to enjoy – look out for the RHS Anniversary maze, RHS Community Street, and the 'Celebration of History' scarecrow competition, as well as the best of summer plants and floral exhibits.
Come to the Humble by Nature Big Day Out in Monmouth, Wales on Saturday 4 July for a day of fun, outdoor food and frolics. As well as delicious food, there will be masses of fun for the family, with bushcraft, den building, crafts and skills, and loads of opportunities to meet the animals on the farm. Unwins will be there exhibiting, so you can get top plant information and advice about everything going on in the garden now.
RHS Flower Show Tatton Park is the place to be for carnival fun and budding gardeners on 22-26 July. Here's where the RHS Young Designer of the Year final takes place – this year on the theme of the 'English Country Garden' showcasing the best of up-and-coming talent in garden-design. It's the perfect day out for all the family.