What to do in the Garden in November
Autumn has so far been a mild affair with temperatures well up on the norm; but we'll be very lucky indeed if we get to the end of November in the same way
Dark November nights and cool days can keep even the keenest gardener inside but there is still plenty of warmth in the soil, so wrap up warm and get outside, because now is the ideal time to plant new trees, hedges and shrubs and many other perennial plants.
November is also the best month to plant tulips and to get bare root bedding plants into the soil such as wallflowers and sweet Williams.
Whatever November brings one thing is certain; there'll be plenty of autumn colour, fireworks to enjoy... and Christmas will soon be nipping at our heels!
Talking of Christmas look at our fabulous gift section, there is plenty to inspire – selfishly I want almost every gift idea as a present for me! Maybe I'll start dropping hints...
Whatever you do, enjoy your autumn gardening.
Get hedges planted.
Soil is still relatively warm and workable in November so it is a good time to get new trees, and hedges planted. Whether you want to fill a gap, create a mini orchard with fruit trees, make a boundary more attractive or create a whole new planting scheme there are plenty of plants to choose from.
Privet (Ligustrum ovalifolium) may seem commonplace as a hedge but it does the job perfectly and it is also a particularly pretty shrub when allowed to grow naturally. Its sprays of white flowers are followed by black berries and the whole shrub is wildlife friendly providing nectar, food and shelter for mammals, birds and insects.
Beech (Fagus)also makes a good hedge. Beech hedges hang onto their leaves throughout winter and the low November sun picks up the glorious wine-red leaves of copper beech. Choose the green version for a fresh green hedge.
Another plant that looks spectacular in autumn sun is cornus; commonly known as dogwood it makes a good backdrop to grasses and a brilliant informal hedge. Clothed in leaves during summer it drops them in winter to show off ruby coloured stems that look sensational when the autumn sun hits them.
As winter approaches berried shrubs and trees are worth their weight for wildlife (and to use as natural Christmas decorations).
Berberis makes a prickly, intruder-proof hedge that is smothered with fragrant yellow flowers in summer followed in autumn and winter by small, brilliant scarlet berries that stay on the bare stems for ages.
Invest in a Fruit Tree.
Fruit trees are always a wise investment, spring blossom and autumn fruit is a combination too good to miss. There are plenty of fruit varieties that will suit a small garden so you won't need masses of space to get a delicious home grown apple or pear next autumn. You can even grow fruit in a courtyard or balcony as long as it gets some sunshine for at least part of the day.
Patio fruit trees produce an amazing amount of fruit in a tiny space. These are specially chosen varieties that will happily grow in a pot on the patio.
Just remember that they are totally reliant on you for adequate water and feed to keep them healthy and productive.. They will also need staking throughout their lives to keep them protected from the sort of gusty weather we have experienced recently; apart from these common sense precautions they are easy to care for..
Most fruit needs sunshine to give the best tasting crops but If you have a shady garden you can still grow your own fruit- choose a Morello cherry sometimes called a sour cherry it is perfect for jam or juicy cherry pies. It's a brilliant cooking cherry that will thrive on a north facing wall-a position where most fruit trees would simply sulk!
Plant bare root roses.
'Planning a new rose garden' sounds frightfully grand doesn't it? It conjures up a vision of stately homes or formal parks, but roses are some of the best plants for creating any style of garden, not just dedicated rose beds but in natural planting schemes and cottage gardens too. Above all roses are versatile flowering plants that blend in beautifully with most schemes. Because this is the right time to plant we have some great moneysaving offers on our floribunda roses that will definitely tempt you to plant them.
When I was growing up, the formal rose bed was all the rage. The flowers looked and smelled wonderful but the roses back then only flowered once so the plants could look very drab for the rest of the year.
Modern roses simply don't suffer from those problems anymore. They are strong, healthy plants that repeat flower. Modern floribunda Roses can be in flower from June right through until late autumn, especially if they are pruned in spring and deadheaded regularly. Sometimes in a mild year they'll even be flowering at Christmas! And most modern roses have been bred to be disease resistant so they certainly won't need cosseting like the old ones did.
OK I know I'm probably preaching to the converted - but if you've never considered growing roses before this is the right time to give them a try. You'll be glad you did when their perfume fills the summer garden or you pick that first bunch of glorious blooms!
Bare root roses are easy to plant, they may look like a bit like a bunch of twigs when they arrive but given a good moist, warm soil they'll quickly establish and by spring they'll be sturdy plants ready to flower all summer and beyond
HOW TO PLANT.
Unpack bare root roses as soon as they arrive and keep the roots moist. Dig a planting hole wide enough to take the roots without cramping them. Loosen the soil in the bottom of the hole and add some soil improver if necessary. Position the rose in the planting hole with the graft on the stem level with the soil surface. You can tell where the graft is by the tell tale bulge on the stem.
When you are happy with the positioning fill in the planting hole with the excavated soil and firm in gently. Water well to settle soil around the roots and keep the roses watered in any dry spells until they are established.
Plant tulip bulbs and spring bedding in the border.
Tulips originate from the Middle East where summers are hot and winters can be very cold so the bulbs once they are snugly planted underground don't mind cold weather; in fact tulips need a spell of cold to get them in the mood for flowering!
The one thing every tulip needs is plenty of sunshine so look for the sunniest place in the garden and site them there. Tulips, and most other bulbs, hate wet, waterlogged soil so plant them into soil with good drainage. If you garden on heavy clay plant your tulips in containers instead of open ground.
As a rough rule of thumb bury the bulbs up to 4 times their depth; even deeper if you want them to stay in the ground permanently.
One of the best ways of ensuring a good spring display is to interplant your tulips with bedding plants that will flower at the same time as the tulips. It may sound obvious but always plant the bedding first and then plant the bulbs. Doing it this way round means you can position the bulbs around the plants and you can see where everything is going. If you do it the other way round you'll have no idea where the bulbs are once they've been buried, So spearing them with the trowel as you plant the bedding is almost inevitable – Believe me I say this from bitter experience!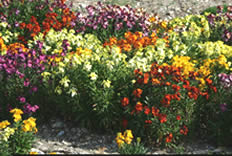 Last chance to plant Wallflowers and sweet Williams.
Both these sweetly scented flowering plants are the traditional partners for tulips and other spring bulbs and they can both be planted now as bare root plants. This is the traditional way and still definitely the best way of growing wallflowers and sweet Williams (Dianthus barbatus) .
Planting bare root plants in autumn has lots of advantages, the soil is still warm, the autumn and spring rains will encourage a strong root system and plants establish fast so they are ready to flower much earlier next spring and summer.
Bare root plants may look unpromising when they first arrive but as soon as they get into the soil they perk up readily and start to grow.
HOW TO PLANT
Unpack the plants immediately they arrive and plant as soon as possible. Soak the roots before planting to keep them moist and plant into weed free soil.
Dig a planting hole deep enough to take the roots without cramping them and space the plants out to give them room to grow. A quick and useful spacing guide is to use the trowel as a makeshift ruler; spacing each plant a trowel's length apart; but remember to allow plenty of space in between each plant if you are planning to add bulbs to the display.
Tidy the border
The warm days and abundant rain of last month have kept plants in flower for the longest time but it's time to do some tidying up. It's usually easy to decide which plants are past their best, straggly stems and limp brown petals aren't inspiring so give dead stems the chop and clear debris from the borders. If the storm at the end of October hit your area there will be plenty of clearing up to do!
Some plants such as dahlias and zinnias will keep flowering until the first frosts fell them. Unlike our native plants, their flowering is not affected by day length so all the while it is warm they send up buds and flowers. Deadheading these half hardy plants will keep them in bloom to add some welcome late autumn colour in the border.
Annual plants such as zinnias and ageratum have been in flower all summer and they still look good. There have been plenty to cut for the house and they are colourful enough to keep in the border until the cold weather finally finishes them off.
The prospect of all this decay may seem a bit depressing but if you add the spent foliage and flowers to the compost heap it will rot down over winter and eventuality give new life to next season's plants.
Leafy waste and grass cuttings add nitrogen to the heap, layer them with material such as straw and crumpled newspaper to add carbon and stop the bin going slimy.
.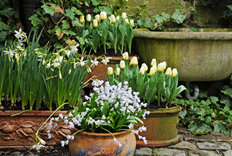 Plant a winter-to-spring container
If you plant bulbs deeply into containers and then top the pots off with autumn bedding plants you'll have plenty of colour throughout winter and it will carry on into early summer once the last bulbs emerge. November is the best month of all to plant tulips but even if you have a tiny garden with no room for them in the borders tulips do really well in pots.
We've used some mid season tulips and teamed them with winter pansies for a long lasting container display but you can choose any variety of bulbs and any bedding plants that take your fancy.
Here's how to do it

Step 1 Place some drainage crocks such as broken pots or tiles into the bottom of the pot and fill a third full with compost, you can use a special bulb compost or a good multipurpose compost.

Step 2 Position the bulbs on top of the compost with the pointed end of the bulb pointing upwards. Keep the bulbs close but don't let them touch.

Step 3 Cover the bulbs with compost to the correct depth (around three times their depth for tulips) but leave enough space at the top of the container to plant the bedding.

Step 4 Plant the bedding plants on top; firming them in and planting so the root ball is thoroughly buried. Don't worry that the plants are closely spaced-everything will find its own space to grow!
Cutting sweet peas
As well as sowing sweet peas at this time of year I'm also still picking them! Like many gardeners I've found the sweet peas this year have just kept on flowering and even in the windiest of weather they've stayed in bloom. The secret is to keep picking to prevent the plants from setting seed. If you pick a bunch for the house every week even a short row of these lovely plants will keep going.
Tying them in regularly and starting off with strong supports also helps to keep the plants tangle free and productive.
When the plants finally succumb to frosts you can cut them down and compost them. Sweet peas in common with all peas and beans fix nitrogen in the soil. If you look you'll see their roots have lumpy nodules on them that do the job so take advantage of this trait and use the spent plants to improve the soil fertility.
Don't pull up the plant in one go; one of the best ways to clear a row is to cut the stems low down on the plants and allow the top growth to wither and die; it is far less bulky and can be chopped straight back into the soil or put on the compost heap. The roots that remain in the soil can be turned back into the soil as you cultivate the plot; releasing their nitrogen for the next crop.
Start a leaf bin
It's that time of year again-when the leaves put on their amazing display before falling onto paths, beds and borders. I love the leaves while they're on the trees but I'm not so keen once they become a soggy mess on the lawn! Clear them with a spring tine rake, or blow them into piles with a leaf blower. You can also collect them when you mow the lawn, although this is most easily done with a ride on mower
on large lawns.
However you tackle clearing them don't consign those leaves to the dustbin, they make such a brilliant soil conditioner or mulch that is low in nutrients and perfect for bulking up soil in raised beds and borders or to keep moisture around the roots of established plants.
Of course the leaves need to be stored for a while to turn them into rich crumbly leaf mould but this is easy to do. Just collect them up and heap into a homemade leaf bin made from chicken wire wrapped around 4 posts. Or simply bag damp leaves into bin liners, stab a few holes in the bottom of the bags to allow excess moisture to escape, and then put the bags somewhere outside in a sheltered, out of the way spot to gently rot down. This time next year you'll have a good supply of leaf mould that has cost you nothing but an afternoon's exercise!